Dr. Chris K. Kiptoo CBS (PHD, AKIB, MEFMI FELLOW)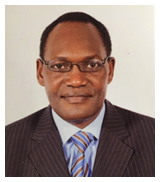 Dr Chris Kiptoo, CBS is the Principal Secretary (PS) for the State Department of Trade in the Ministry of Industry, Trade and Co-operatives. The following are the activities that Dr Kiptoo has achieved since being appointed PS.
Signing and ratification of Economic Partnership Agreement (EPA)- Preparation of Cabinet Memo on EPA which was approved for signing and ratification. He worked very hard to ensure that Kenya beat the 1st of October 2016 deadline to sign and ratify the EAC-EU EPA, otherwise Kenya's private sector would by now have lost a lot through payment of duty to access the EU market. This is notwithstanding the fact that Burundi and Tanzania are yet to sign and ratify the EPA.
Development of National Trade Policy (NTP) and Submission to Cabinet. Kenya has taken too long to prepare a national trade policy owing to tuff wars. Dr Kiptoo has however managed to bring together all the key stakeholders including the county governments to develop a comprehensive national trade policy that focusses on domestic and international trade. A cabinet memo of national trade policy is now before cabinet;
National Trade Facilitation Committee (NTFC) - Ratification of the Trade Facilitation Agreement was completed and Instruments of Ratification deposited with the WTO Secretariat on 10th December, 2015. Subsequently, Dr Kiptoo has fastracked the establishment of the National Trade Facilitation Committee (NTFC) of Kenya. The Committee has a Membership of 59 from the Public, Private Sector and Trade related Civil Society with a clear organizational structure. NTFC received a legal mandate on 16th September, 2016 when the Cabinet Secretary For Industry, Trade And Cooperatives Gazetted.
National Export Strategy - Dr Kiptoo is the chair of a national task force on National Export Strategy and implementation which he established following completion of the national trade policy. The Strategy seeks to spur the country's export development with a view to translating the outcome to the growth targets that Vision 2030 has assigned the trade sector. The strategy will specifically be addressing the following challenges that have remained elusive: -Kenya's Balance of Trade deficit which has been on the increase standing at KES940billion in 2015. This is attributed to imports being more than three times the value of exports, a scenario that demonstrates lack of conscious efforts to close the gap through sustained export growth and domestic market solution to the country's import demand. The challenge on exports is further manifested in the country's export destination market, which remains quite narrow, with over 70% of Kenya's total exports being destined to only 12 countries globally. Further, the country's export products export base is also narrow, as evidenced by about 5 products/subsectors accounting for 56% of total exports in 2015. This explains the dismal share of the country's total export in total global merchandise trade, which is estimated at 0.03%. The strategy will be targeting the following sectors, which have been identified as having trade potential in markets that Kenya has preferential market access arrangement: -
Livestock (Meat, Dairy, Poultry meat and eggs, leather, ornamental birds)
Agriculture (Horticulture, fruits, vegetables, nuts, floriculture, tea, coffee, pulses, honey, pyrethrum)
Fisheries (Inland, marine, aqua culture, aquarium fisheries)
Manufactured products (textiles & apparels, agro processed products, plastics, commercial products, footwear)
Handicrafts
Services sector (Health, cultural recreational & sporting, construction, education)
Emerging sectors (Mining, Minerals, Energy)
Establishment of National Commodities Exchange (COMEX)- good progress has been made to establish a national commodity exchange. The warehouse receipts bill is on third reading in parliament, the Capital markets Authority (CMA) act is being amended to facilitate for regulation of commodity exchange, standards have been developed for 18 commodities and a consultant is being brought on board to establish the COMEX.
Resolving Unfair trade practices in domestic economy - Dr Kiptoo has successfully brought together the Association of Kenya suppliers (ASK), the Kenya Association of Manufacturers (ASK) and the Retail association of Kenya (RETRAK) to reach an understanding on how to resolve unpaid payments problem that has become rampant in Kenya. He has formed a taskforce to address a number of other unfair trade practices with a view of coming up with a regulatory framework as envisaged in the national Trade Policy.
Trade Portal- Dr Kiptoo has rolled out the development of a trade portal that contains domestic and international trade statistics/information. The portal is important for storage of information and data to facilitate sharing, analysis and use by interested parties. The portal will also have Market Access Regulatory Requirements.
Kenya's participation World in World Expositions – Dr. Kiptoo is in charge of planning and execution of Kenya's participation in Expo 2017 Astana and the upcoming Expo 2020 in Dubai. This involves supporting the prevailing theme statements for each Expo while at the same time trade, investments and tourism benefits to Kenya from these important events.
Review of Bilateral Agreements – in 2015, 70% of Kenya's exports went to only 12 markets. Dr Kiptoo is leading the review of all Bilateral trade agreements that Kenya has signed with a view of developing a strategy of diversification of Kenya's markets. Dr Kiptoo is also championing the signing of bilateral trade agreements with in new markets. A key example is the Jordan Kenya bilateral trade agreement that will be signed on 13th December 2016 in the presence of the Jordan King and President Kenyatta.
Dr Kiptoo has chaired key committees/task forces that has ensured successful hosting of the following high level events that have raised Kenya's international standing:
WTO MC10 conference held in Nairobi in December 2015
UNCTAD 14 conference held in July 2016 in Nairobi. Dr Kiptoo particularly played a key role in the Global Commodities Forum and the World Investment Forum during the UNCTAD meetings
TICAD IV held in Nairobi in August 2016. Dr Kiptoo particularly played a key role in organizing trade and investment forum
Trade Ministerial meeting of the EAC-COMESA –SADC Tripartite Free Trade Area (TFTA) in November 2016 in Nairobi.
Dr Kiptoo has also played a key role in successfully organizing the following trade and investment forums attended by foreign heads of states and President Kenyatta
Kenya Nigeria Business Forum during state visit by President of Nigeria, HE Muhammadu Buhari in January 2016.
Kenya South Korea Business Forum during state visit by Her Excellency President Park Geun-hye in Nairobi in May 2016.
Kenya Ethiopia Business Forum during state visit by HE Hailemariam Desalegn in Nairobi in June 2016.
Kenya Turkey Business Forum during the State Visit by His Excellency Recep Tayyip Erdogan, President of the Republic of Turkey to Kenya in June 2016.
Kenya Israel Business Forum during state visit by Prime Minister of Israel, HE Benjamin Netanyahu in July 2016.
Kenya India Business Forum during state visit by Prime Minister of India, HE Narendra Modi during in July 2016.
Kenya South Africa Business Forum during state visit by President of South Africa, HE Jacob Zuma in October 2016.
Kenya Egypt trade bilateral meeting during the state visit by President of Egypt, HE Abdel Fatah Al Sisi in February 2017.
Kenya Slovakia trade bilateral meeting during state visit by President of Slovakia, HE H.E. Andrej Kiska in February 2017.
(download full bio)