Dr. Chris K. Kiptoo CBS (PHD, AKIB, MEFMI FELLOW)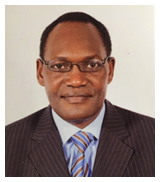 Dr. Chris K. Kiptoo, CBS is the Principal Secretary (PS) in charge of Trade. He was appointed by H.E. the President as the Principal Secretary in December, 2015 and reappointed again in February, 2018. Dr. Kiptoo has been able to accomplish a lot in just over two-years career as the PS. To name a few; Signing and Ratification of the Economic Partnership Agreement (EPA), Development of the National Trade Policy (NTP) which brought together National and County Governments, Establishment of the National Trade Facilitation Committee (NTFC), Development of the National Export Development and Promotion Strategy, Leading the way in Establishment of Kenya National Commodities Exchange (KOMEX) , Spearheading reforms in the Retail Sector, Dr. Kiptoo was hugely involved in the development of Kenya's e-trade portals which made Kenya 1st country in the East Africa Community (EAC) and Sub Saharan Africa (SSA) to comply with Article 1 of the WTO Trade Facilitation Agreement.
PS Kiptoo is also the Chair of the Kenya's National Trade Negotiations Committee (NTNC) where he leads Kenya's negotiating teams in various trade negotiations platforms. These includes Tripartite Free Trade Area (TFTA) and the recently concluded African Continental Free Trade Area (AfCFTA), among others. Furthermore, Dr. Kiptoo is currently spearheading the formation of the Trade Remedies Agency. The trade remedies bill was passed by the Parliament in June, 2017 and later the act was assented by the H.E. President. The Agency will undertake investigations and recommend remedial measures to protect domestic Industry from unfair trade practices.
Before his current appointment, Dr. Kiptoo worked for three years at TradeMark East Africa's (TMEA) as the Kenya Country Director. His main responsibility was to manage and monitor TMEA's Kenya country in the fields of regional trade, infrastructure development, modern customs systems, and institutional development of Government agencies. Dr. Kiptoo is widely credited for having competently grown the Kenya Country Program at TMEA especially the Mombasa Port infrastructure capacity and efficiency improvement. He played a lead coordination role in the development of the Mombasa Port Corridor Charter (MPCC) that was signed by 25 trade facilitation agencies in the presence of President Uhuru Kenyatta on 30th June 2014.
Dr. Kiptoo has also worked at the Office of the Prime Minister (OPM) - Kenya, Capital Markets Authority (CMA), Central Bank of Kenya (CBK), the International Monetary Fund (IMF) and National Cereals and Produce Board (NCPB). Dr. Kiptoo has a lot of expertise on areas related to; international trade and finance including monetary policy, financial sector issues, national account in addition to other aspects of macroeconomic accounting and modelling. Dr. Kiptoo is a self-motivated and seasoned economist with strong analytical and interpersonal skills and demonstrable managerial and leadership experiences. Dr. Kiptoo holds several qualifications including a Doctor of Philosophy Degree (PhD) in International Macroeconomics Finance Specialization - from the University of Nairobi). He is also an Accredited Fellow of the Macroeconomic & Financial Management Institute of Eastern & Southern Africa (MEFMI), in the field of macroeconomic management. He is also an Associate of Kenya Chartered Institute of Bankers (A.K.I.B).
(download full bio)