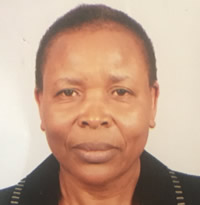 Joyce Achola Ogundo Profile
I am a servant in the state department for Trade, serving as the Secretary of Trade, a post I have held since June, 2017. I hold Master of Science in Entrepreneurship, from Jomo Kenyatta University of Agriculture and Technology.
I am a trade expert, having served in the Ministry responsible for Trade development and promotion since 1982. I have a passion for Entrepreneurship development.
I have participated in formulation, analysis and review trade policies. I am involved in interpretation of Trade policies to draw projects/ activities for promotion and development of trade. I have successfully participated in Trade negotiation matters, especially on trade matters on regional integration and bilateral trade relations. Specifically focusing on planning, developing and implementation of trade and investment development and promotion strategies and facilitated implementation of capacity development programmes for Micro, Small and Medium Enterprise sector. My specific skill areas include;


Project proposal writing
Monitoring and evaluation
Strategic management
Negotiation
Association and Projects
A member of Kenya Institute of Management
Conducted a research on: -FACTORS THAT INFLUENCE THE CHOICE OF MARKET ENTRY STRATEGIES EMPLOYED BY HANDICRAFT EXPORTERS: THE CASE OF HANDICRAFT EXPORTERS IN NAIROBI - KENYA: -1999.
Contributed to the development of Micro and Small Enterprise Bill
Served as Alternate Director in the Board of Industrial and Commercial Development Corporation, Micro Enterprise Support Programme trust board, Micro and Small Enterprise Authority, Kenya Wine Agency and Uchumi Supper markets LTD